Step 1) Go to Download Page

Go to Opera Software. On the homepage look for "Download" You should find it near the top of the page or in the side bar on the left.
Step 2) Select Language

On the download page you will be invited to select the language of your choice. Just click on the highlighted language you prefer to download. There is a column on the left for Win95 versions and a column on the right for Win 3.1 versions.
Step 3) Select Site to Download From

You will see a list of potential download sites. Select the one you want to use. This will start the download. Keep in mind, the program is less than 1.3 megabytes in size. This will be a very fast download.
Step 4) Open Program in Windows Explorer

For the English 32 bit version the name is o351e32.exe. Try to write down the name of the file or remember where you put it during download.
Step 5) Follow instructions

The system is very simple to install. Just keep clicking on "Next" until you see "Finish" and you is done. If you are like me and want to install into a different directory than "c:\program files" you will need to "browse" for the alternate directory. Other than this simple choice it is all a no brainer.
Step 6) Start Opera

Just double click on the icon in the usual fashion. Very simple.
Step 7) Try Loading a Page

If you can not load a page then you will need might need to change the Preferences settings. Below are screen shots of the places I went to change the setting in my version. It is recommended that you poke around in either the help file or on the Opera Software website for more instructions. These images are here for reference. They program may have been updated when we weren't looking and these screens can be out of date.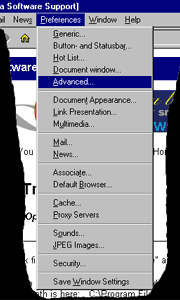 By clicking on the word Preferences in the set of menus across the top of the screen this submenu comes up. There are tons of options. It's likely that you will want to look at each of them to acquaint yourself with the possibilities. You can always use the "Cancel" button to back out of any submenu that looks scary.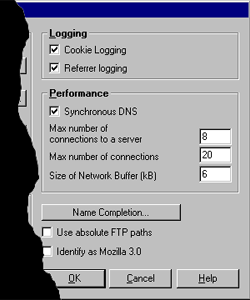 By clicking on the word Advanced in the Preferences submenu this window comes up. Actually this is only the right half of the window. Half way down the screen you will see the Synchronous DNS box. If the browser is not working with Synchronous off, try Synchronous on. If the browser doesn't work in either mode then look for something else as the problem. By the way, before going to much further you might want to make sure you have gas in the tank, water in the radiator, and your ISP connection is on.