| | | |
| --- | --- | --- |
| | Web-Based Email | |
Web-based email is relatively new to the internet. The advantage of it is that you can pick up your mail from any computer that is connected to the internet. It can be your computer, or your friends computer. It doesn't matter. All of your email files stay on the web-based server.

To read your email on a Web-based email site, you have to log onto the web-site with a USERNAME and PASSWORD. Then your email is presented to you for reading as a standard webpage. This means you can use your browser -- or a browser anywhere in the world. Nice if you happen to be traveling.

To start the process, you have to log-in with a USERNAME and PASSWORD. Then you have full control to send, receive, edit and delete your email files.

Hotmail may not have been the first Web-Based email site, but it was certainly one of first to become so popular.

Now, most all of the search engines are offering free web-based email.

They all are pretty much the same. So feel free to pick one based on name, color scheme or the flip of a coin. Maybe you like the sound of one of the extensions. The choice is yours.

For this example, we're going to go with MailCity. Go to the web site and click on NEW USER SIGN-UP HERE, unless you aren't a new user.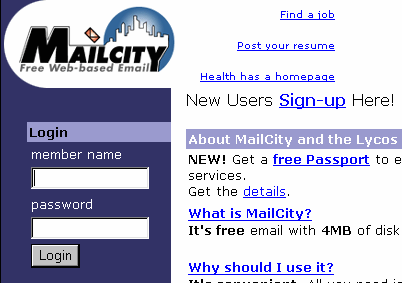 They will have you fill out your name, birth date, etc. Enter in the information. Chances are the first name you pick will be taken. When one is accepted, they then will ask you if they can bombard you with email advertising. Choose the ones you want to be bombarded with and follow through the registration process. At the end you will see a screen something like this:

Now we click on the Inbox link. And here we are. The next time we log-on we just type in our USERNAME and PASSWORD and here we will be again.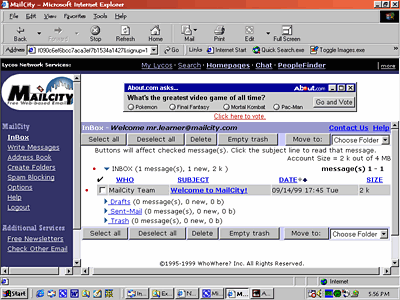 From here you should be able to find your way. Click on the Subject of the mail to read it. There are buttons at the top to let you manage your Inbox. On the left you click to write new messages, enter people into your address book among other email management features.
Explore.
Send an email.